Kate Burke| Domain| 20 June 2022
Australia house prices: The property type defying the downturn, for now (smh.com.au)
Property prices for cheaper homes are holding up the best in Sydney and Melbourne's cooling markets, while affordable homes are seeing the strongest growth in most other cities.
Less expensive properties outperformed their pricier counterparts over the past three months, CoreLogic figures show. Values for the bottom 25 per cent of homes lifted 3.4 per cent, while values for the upper quarter of the market dropped 1.4 per cent.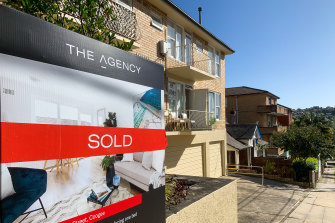 In Melbourne, the bottom quarter — any price point up to about $627,000 — increased 1.1 per cent over the three months to May. The middle of the market nudged down 0.1 per cent and the top quarter fell 2 per cent.
In Sydney, more affordable homes — priced up to about $829,300 — increased a marginal 0.1 per cent. Prices for the top quarter fell 2.7 per cent.
The bottom quarter also led price growth across all other cities except Darwin. The most significant difference was in Canberra, where prices at the lower end lifted 4.1 per cent, while the upper quarter increased 0.6 per cent. The capital recorded its first monthly price fall in three years in May.
"This is something we would expect to see at the cusp of a market change," said Eliza Owen, CoreLogic's head of residential research for Australia.
"The high end of the market tends to be the first mover, and … more volatile. When the market is going up it tends to see some of the highest growth and then when the market starts to go down … it will deteriorate more quickly."
Affordability and credit constraints may have pushed more buyers into the bottom quarter of the market, Owen said, making the price segment more resilient.
Meanwhile, the top quarter could be impacted more by rising interest rates. Previous research from the Reserve Bank of Australia found more expensive areas, and those with a higher concentration of investment, were more sensitive to changes in the credit environment, Owen said.
However, she noted price growth for more affordable homes was slowing and would follow the upper end. Cheaper prices in Sydney already dipped a marginal 0.2 per cent over May but were still up over the three-month period.
"They will eventually follow the high end, the only difference is the downturn probably won't be as severe … the lower end is more of a slow and steady performer," she said.
ANZ's head of Australian economics David Plank said the upper end of the market usually led upswings and downswings, and was more sensitive to interest rate changes as buyers were often more leveraged.
"Our expectation, though, is that we will see more widespread falls across all segments of the market as interest rates move up and reduce affordability more; that's a story for later this year and into next year," Plank said.
ANZ last week tipped property prices would fall 15 per cent from April this year to the end of 2023, revising down a previous forecast for a 12 per cent drop, following a sharper than expected lift to the cash rate. Sydney was expected to take the biggest hit, with prices tipped to drop about 20 per cent.
Plank said the nation's most expensive, most leveraged markets, were most exposed to the impacts of rising rates, and that increasing fixed mortgage rates had already affected such markets well ahead of the official cash rate hikes. While Sydney and Melbourne were leading the downturn, other cities would follow in the coming months.
Melbourne auctioneer Ned Nikolic, a partner at Barry Plant Melton, said price growth had eased at the more affordable end of the market.
"Prices over here are definitely stabilising, which was always inevitable, but at the same time they are not looking like they are going down anytime soon," he said.
Nikolic was still seeing good buyer demand in his market, particularly from first-home buyers, due to the region's affordability. However, he noted the outlook could change depending on how high inflation and interest rates went.
"When the [global financial crisis] kicked in our prices didn't really drop, but stabilised because when people can't afford the other areas they have to come somewhere," he said.
Western Sydney real estate agent Blaz Dejanovic, director of Blaze Real Estate, said prices in his market were holding up well, but noted inquiries from buyers were drying up. With house hunters aware the boom was over, there was no urgency to purchase.
"We're still averaging 3 to 4 registered bidders per property [at our auctions], which is better than other parts of Sydney like the inner west," Dejanovic said.
More affordable price points had a larger buyer pool, Dejanovic said, and first home buyers especially were still keen to purchase.
On the divergence between price brackets in the broader Sydney market, he added: "The saying is – the bigger they are, the harder they fall."