Macrobusiness | Leith Van Onselen | 11 September 2013
http://accreditedbroker.com.au/administrator/index.php?option=com_content&task=add
Monique Sasson Wakelin has today written a rant in the AFR lambasting a range of analysts for providing negative comments about the Melbourne housing market:
Last week, Angie Zigomanis of research house BIS Shrapnel told ­property investors to steer clear of the Melbourne market, saying, "There are more estates coming onto the market so there's not as likely to be as much pressure on prices from a supply perspective."

It was following on from another expert, wHeregroup buyer's agent Todd Hunter, claiming low Melbourne yields made the Victorian capital a poor investment proposition.

"Properties are only achieving 3 per cent to 5 per cent yield and that's terrible. You may as well have your money in the bank in a cash account."

These are tired and worn arguments that once again are being trotted out to suggest a regional weakness.

Now I'm a Melbourne girl, but I don't protest because of some parochial self-interest. I take issue with this forecast because the reality is that we are likely to see some reasonable capital growth in Melbourne over the next year…

There are indeed some oversupply issues in the high-rise inner city apartment market and in housing estates in fringe suburbs of Melbourne, but they are localised problems and not major factors for the whole market.

And anyone who focuses on yield as the yardstick of whether property is a worthy asset class to invest in has got it seriously wrong. Investing in property should primarily be about capital growth, not earning an acceptable percentage yield.
Wakelin's opposition to these negative sentiments about Melbourne property, and her argument that Melbourne home values are likely to experience some "reasonable capital growth in Melbourne over the next year" misses the point. Investing is all about opportunity cost and risk and Melbourne self-evidently offers the poorest property fundamentals in the country (except to local buyers advocates it seems!)
According to the Australian Bureau of Statistics, Melbourne has accounted for 37% of capital city dwelling approvals over the past three years, despite comprising only 28% of capital city households (see next chart).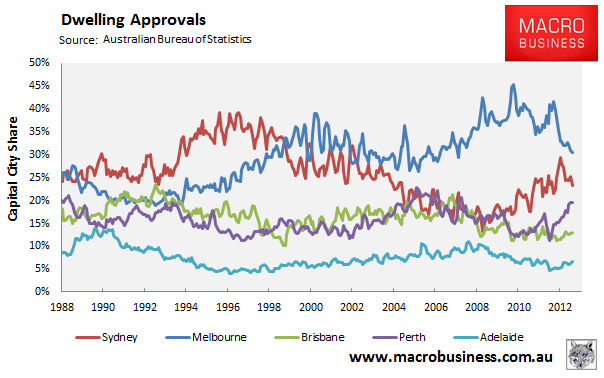 By contrast, Sydney, which comprises 31% of capital city households, accounted for only 23% of capital city dwelling approvals over the past three years.
The construction boom is also being reflected in the rental market. Rental yields in Melbourne are by far the lowest in the nation at a paltry 3.6% for houses, according to RP Data (see below table).

Meanwhile, Melbourne's rental vacancy rate is also by far the highest in the nation, according to SQM Research:

The relatively abundant supply of homes in Melbourne is also being reflected in for sales listings, with Melbourne again leading the way, with stock levels 78% higher than Sydney despite its smaller population (see below table).

The data speaks for itself. The fundamentals of the Melbourne's housing market remains relatively poor and better investment oppotunities lie elsewhere.
{rokcomments}